12-module online comprehensive Course on Supporting the development of Infants and Toddlers the Montessori Way
Are you a parent, caregiver, or educator of an infant or a toddler?
Do you often find yourself wondering how to get your child to cooperate or how to navigate discipline the Montessori way?
Are you curious how to enable independence and confidence in these youngest members of your families and classrooms? 
Do you sometimes have questions like these? 
How do I get my child to stop biting, hitting, or throwing? 

How do I stop my child from having (or support them during) tantrums and meltdowns?

Why is my child constantly whining or testing boundaries? 

How do I stay calm and regulate my own emotions during these challenging moments? 

How do I help my child establish good sleep and eating habits (especially when they're a picky eater and seem to never want to sleep)? 

What activities can I offer to my child to support their development in each area of his life?

How can I implement the Montessori principles at home?

How can I support my child's language development and when and how can I add a second or third language to encourage bilingualism?

How do I support my child in the process of toilet learning in a Montessori aligned way?
Parenting, caregiving, and educating can be difficult at times. Empowering children as they move through stages of autonomy can seem nearly impossible as big feelings and strong-wills emerge, but introducing Montessori principles during the first few years of a child's life can be truly transformational. 
Whether you're a new parent, caregiver, or educator looking for an introduction to these topics, or a Montessorian with years of experience looking for a validation of your practices and a deep-dive into Montessori theory, we invite you to come learn about Montessori principles and practices from experts around the world to help you guide and care for babies and toddlers.
Our online course consists of 12 modules. Each module includes a number of video-lessons of varying lengths, usually having 2-3 hours of content within each module.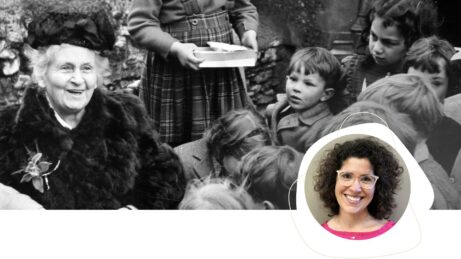 Learn Montessori theory and terms to get you started on your journey. Develop an understanding of Dr. Montessori's key principles including the Planes of Development, Sensitive Periods, the Absorbent Mind, and the importance of order in the development of personality.
This module will review a child's unique development through the eyes of Dr. Montessori's philosophy. You will explore the magnificent way a child learns by absorbing information naturally from their environment and will explore heightened abilities children have for learning new skills or gaining new knowledge during this exciting time in their lives. 
Charlotte Snyder, certified Montessori guide and former Montessori student, will host this module. Charlotte is Head of School at The Baan Dek Montessori, where she particularly enjoys sharing Montessori philosophy with families through the school's blog and podcast.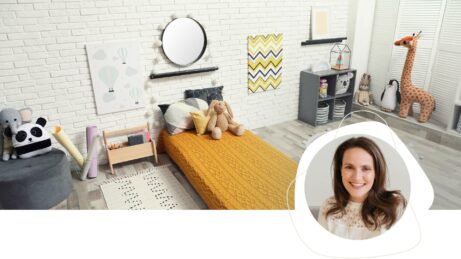 Explore how to design and structure classroom and home spaces to meet the infant and toddler's needs. Learn about the process of toy rotation and discover how strategies like these can help in maintaining the environment. 
Understand one of the fundamental principles of the Montessori Method, the Prepared Environment. Learn how to carefully prepare the child's environment by reducing obstacles, finding ways to make things accessible to them to promote their independence, and observing their needs and interests to introduce new and exciting activities. You will also explore when and how to rotate toys to best meet a child's needs, keeping them engaged, interested, and challenged as they learn and grow.
Nicole Kavanaugh is the writer, parent educator, and most importantly mom of 5 children. She has shared her family's journey at website The Kavanaugh Report. She is a host to the popular Shelf Help podcast and hosts parenting courses.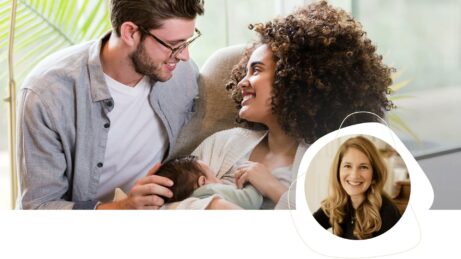 Preparing Ourselves as Adults
Explore how to prepare yourself as a parent, caregiver, or educator to work with young children. Discover the importance of self-care. Understand what it takes to become the Prepared Adult Dr. Montessori described. Learn the importance of being on the same page with your partner and how to navigate relationships with grandparents. 
In this module, you will discover how and why it is so valuable to invest in one's self, reviewing simple self-care strategies and developing an understanding of how this type of self-care relates to Dr. Montessori's concept of the prepared adult. You will also discover the importance of being on the same page with their partner in regards to parenting and caregiving decisions and will learn helpful techniques for navigating relationships with family members who may disagree with their parenting practices in a way that is respectful of all parties, but honors one's personal beliefs and ideals. 
This module is lead by Lorena Seidel, a Social-Emotional Learning Consultant, certified Montessori guide, and Mindfulness-Based Stress Reduction (MBSR) teacher. Lorena is a sought after speaker who has delivered keynote addresses and lectures at local, national and international conferences and has transformed lives of thousands.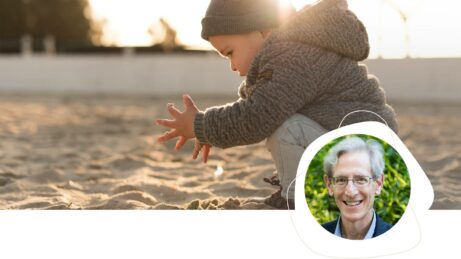 Discover the art of observation, a hallmark of Montessori philosophy that guides us as parents, caregivers, and educators. Learn how to objectively monitor the child to understand their interests, needs, and abilities and understand how to adjust their environment accordingly. 
In this module, you will learn what observation is, types of observation, and its benefits. You will also develop an understanding of how and what to observe, and perhaps most importantly, what to do with the information you've gained after observations have been made. 
The observation module will be hosted by Dr. Paul Epstein, a Montessorian with decades of experience, a highly regarded international speaker who brings transformative learning experiences to educators and parents around the world. Dr. Epstein is the author of numerous articles and books, including An Observer's Notebook: Learning from Children with the Observation C.O.R.E.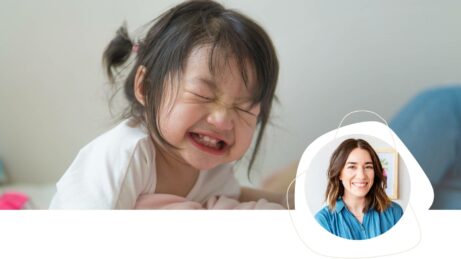 Social-Emotional Development
Learn how to acknowledge, validate and accept the young child's big feelings, empowering them and helping them develop skills to navigate social-emotional relationships. Discover the power of independence in the Montessori method and how you can encourage and promote the young child to become a confident and capable human being.
This module will help you understand a child's social-emotional development from the moment of birth. You will learn about the drives that urge infants to relate to others and how to support toddlers as they navigate relationships with peers. Understand the importance of facilitating independence and how to provide daily opportunities for your child to become a capable and confident member of the home or classroom. 
Blanca Velazquez-Martin will host this module. Blanca is a licensed psychotherapist (LPC) and a certified Positive Discipline Parent Educator. She is also the founder of Whole Child Home, where she offers private consultations and workshops designed to empower parents' positive parenting journeys.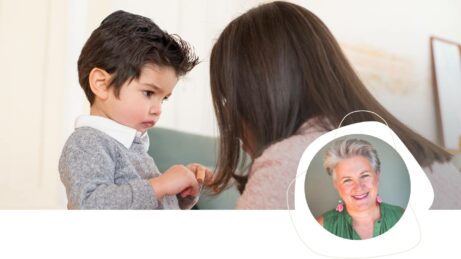 Discover the key principles of Positive Discipline. Learn how to navigate discipline the Montessori way including how to instill a sense of inner discipline in the child. Develop an understanding of the importance of freedom in Montessori. 
In this module, you will learn the basic tenets of Positive Discipline. You'll discover common parenting styles and techniques to support you in employing those which foster independence and resilience in your child. The module will include strategies for peacefully and respectfully redirecting children's behavior including self-quieting, setting limits, and natural and logical consequences.
Jeanne-Marie Paynel, author of Les 100 règles d'or de la méthode Montessori, will lead this module. She is a Parenting Mentor and Home Consultant guiding parents in raising self-sufficient and resilient children. She is a Certified Positive Discipline Educator and a globally recognized speaker who artfully combines her three passions: Montessori, Conscious Parenting, and Positive Discipline.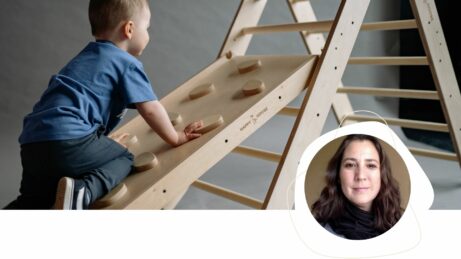 Discover the natural process of the child's development, gaining an understanding of their unfolding gross and fine motor skills. This knowledge will help you prepare the environment as you remove obstacles and allow your child more opportunities for movement and will allow you to notice early if there are any delays or other concerns with your child's developing motor skills.         
In this module, you will learn about the value of the freedom of movement as you become inspired by activities that are designed to help infants and toddlers learn to control their movements in purposeful ways as they increase their independence in the home environment. Some of these activities include exercises for building whole body coordination, control of the hand, and hand-eye coordination.
Gabriela Velazquez, who will guide you through this module, was a 0-3 Montessori teacher for more than 20 years and than became a teacher trainer. Now she serves as a lecturer, consultant, and examiner for AMI, and she is the Director of Training at different training centers.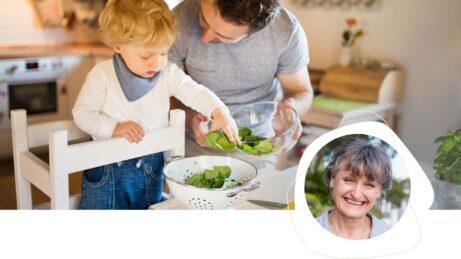 Practical Life Activities
Discover the value and importance of Practical Life activities including Care of Self, Care of the Environment, and Grace and Courtesy. Learn how to encourage your child to help in the kitchen and clean up their toys and why these activities are important for their growth and development.
In this module, you will learn how to help your child engage in common daily activities including getting dressed, brushing their hair and teeth, preparing a snack, setting the table, and washing dishes. You will discover how these activities serve as purposeful, exciting work for young children and will develop an understanding of how they support their blossoming independence. This module will also review the importance of Grace and Courtesy, or how to introduce social norms and manners to your child and the value these customs hold.
The Practical Life Activities module will be led by Ferne van Zyl, a dedicated Montessorian with more than 20 years of experience. Ferne has a wealth of knowledge working with babies and toddlers and their parents and caregivers as a former Montessori learning center operator and now as a consultant.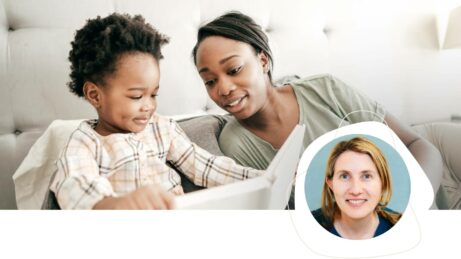 Understand the child's language development and how to facilitate this growth. Discover activities to support language development including the implementation of the Three Period Lesson, how to elicit language, and tips for embracing second or third language acquisition before the age of 3.
This module will examine Dr. Montessori's concept of the Absorbent Mind and how this allows children to easily acquire language, including the addition of second and third languages. You will learn how to create a language-rich environment with strategies for utilizing a well-developed vocabulary, sportscasting actions and feelings, and introducing new language concepts using the Montessori Three Period Lesson. 
Simone Davies, author of The Montessori Baby and The Montessori Toddler books, will host this module. Simone currently runs parent-child Montessori classes at her school Jacaranda Tree Montessori and operates her blog and podcast entitled The Montessori Notebook.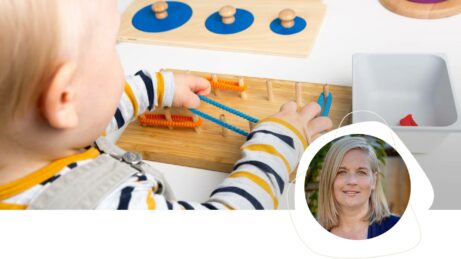 Explore key Montessori lessons for children ages 0-3 including visual, tactile, and auditory experiences, language, movement and music activities, and works that develop hand-eye coordination. Each activity will focus on a specific developmental skill and will offer you clear instructions on how to carry out these activities in the Montessori way. 
This module will introduce classic Montessori lessons in the sensorial and cultural areas that will help toddlers learn and develop. You will also discover great ideas for fostering movement, stimulating language development, and supporting a child's interest in art or music. These activities will engage and excite your toddler, empowering their independence and building their self-confidence and resilience. You will even be given pointers on how to use everyday household items to prepare these activities and learn how to increase or decrease the activity's level of difficulty to meet every child where they are. 
This module will be hosted by Beth Wood, a 0-3 and 3-6 certified Montessori Guide. Beth is a Montessori consultant and the author of The Montessori Toddler Activity Book, a guide with a wide range of fun activities for toddlers based on the Montessori method that foster independence and build confidence.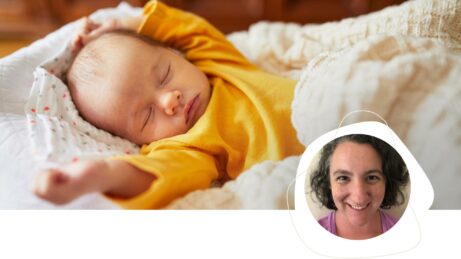 Creating Daily Rhythms & Routines
Learn how to navigate daily life with infants and toddlers. Discover the importance of creating daily rhythms and routines for activities including sleep and mealtimes. 
In this module, you will learn strategies to create daily rhythms and routines to make mealtimes and bedtimes more peaceful and relaxed. Discover how to prepare your child for upcoming transitions, how to acknowledge their feelings in these sometimes difficult moments when they refuse to eat their food or have a meltdown when it is time to clean up for bath time, and how to offer them choices so they understand their feelings and autonomy are being respected in a way that also facilitates cooperation. 
Mariana Bissonnette, who will be guiding you within this module, is a 0-6 Montessori educator, parenting guide, and founder of The PEACE Program. She is an award-winning author of the Babies Build Toddlers book.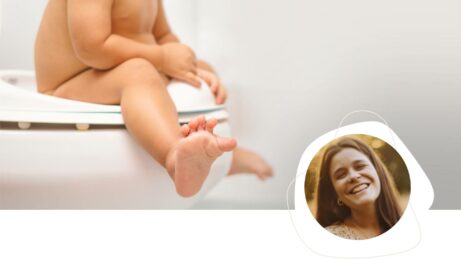 Learn about the gradual, natural process of Montessori toilet learning. Learn how to recognize a child's readiness and how to support them in a way that follows their pace and promotes their blossoming independence as you observe their needs and behaviors and prepare the environment for their success.  
This module will help you understand the natural process of toilet learning, an approach that progresses at the child's pace, allowing them to develop independence with support from an adult as needed. Learn how to observe and follow your child's cues for toileting, ways to prepare the toileting environment, and your role in the process. Some common setbacks to toilet learning including the birth of a new sibling, starting a new school, vacations, and moving, and how to navigate these challenges will also be covered. 
Neus Carmona will host the Toilet Learning module. Neus is a certified Montessori guide who has worked in Montessori classrooms and as a Montessori consultant for more than a decade. As a Montessori parent, Neus has valuable first-hand experiences navigating toilet learning that has been vital to helping more than 200 families on their toilet learning journeys.
Enroll now to learn these foundational Montessori principles & practices for infants and toddlers!

10 bonus videos
10 bonus videos will be available as early as you pay for your course to shorten your waiting. Learn about music, creativity, attachment, self-efficacy or how to follow your toddler.
Life Q&A sessions
There will be at least 2 live Q&A sessions within the first three months of the course. You can join our lecturers and ask anything you need!
Workbooks
A workbook will follow each module. The workbook can be used to make notes, answer questions, and complete simple tasks that the lecturers have prepared for you.
I can do it! Supporting Self-efficacy in Montessori

Charlotte Snyder

From baby to toddler: How to follow your Montessori child

Neus Carmona

Beyond the shelf: 10 things your Montessori child actually needs

Ashley Yeh

Unleashing creativity with Montessori

Aubrey Hargis

The importance of movement in the foundation of healthy risk taking

Gabriela Velazquez
Welcoming newborns the Montessori way and why it is important to start before birth

Jeanne-Marie Paynel

Montessori early language neurodevelopment

Julia Volkman

Creating beautiful hearts: making music with children from birth to six

Una Shea

How practical life enhances the toddler's sense of order and personality

Nancy McNabb and Mary Ellen Maunz

The importance of attachment in the first three years of life

Gabriela Velazquez
Our lecturers have decades of experience, are world-renowned parent and teacher consultants, authors of books, and speakers at international events!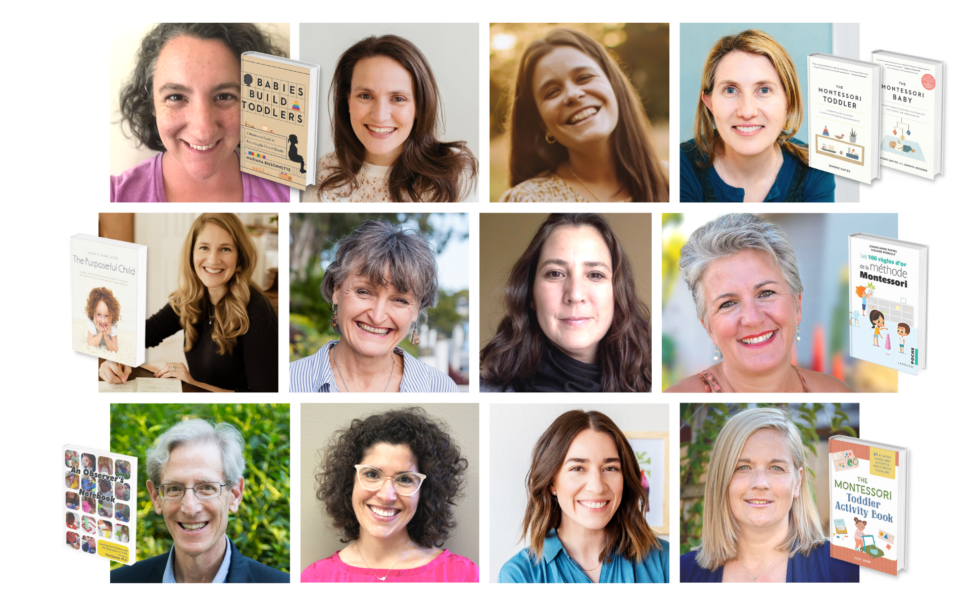 The course starts January 2, 2023
One module will be released each week
More than 30 hours of video content
The course materials include video lessons for you to watch, practical tips and strategies to implement right away, and recommendations for additional text and resources to help you along your journey.
Unlimited access
You can study wherever and whenever suits YOU. Feel free to set the pace and rewatch lessons at any time you need, even in the future.
All info in one place
This course provides comprehensive step by step guidance. Just imagine the time saved searching for answers online or in books - we did the work for you!
Inspirational tips
You will get ideas for making your own educational resources and preparing activities with materials you have at home. Perfect if you are on a budget!
Community
You can join our Facebook group to share your experience with other participants in the course. Get encouragement from each other!
Certificate of completion
A certificate of completion can be issued upon request documenting your learning and achievement in the course.
Early Bird Offer $100 OFF
Claim your discount with code
"EARLYBEGINNINGS"
Montessori Beginnings
12 modules

$149 each

worth $1,788

10 bonus videos

$29 each

worth $290

2 life Q&A sessions

$50 each

worth $100

Workbooks

$15 each

worth $180

+ Private Facebook group

+ Certificate of Completion
with Early Bird discount code*
*Claim the discount with code "EARLYBEGINNINGS" during your order.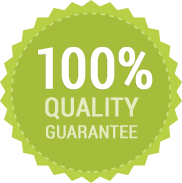 Not sure if our course is right for you?
Purchase it risk-free.
We'll give you your money back if you're not satisfied.
Your satisfaction is our priority. If you are not happy with the course, you may contact us within the first two weeks of the course for full refund of the purchase price.
What people say about our lecturers and other courses
I just wanted to express my sincere gratitude to Charlotte and the Montessori Parenting team for this wonderful series of videos. Charlotte has a delightful and very mindful approach to education that has particularly resonated with me. I devoured her words as if I was reading a book (in fact I think she should write a book).
The topics were designed to really get the message of Dr. Maria Montessori across this modern age. As a first time mother of a 6 month old child, it gave me a jumpstart on applying Montessori not only in the materials I present to my child, but more importantly in living the Montessori lifestyle. I specifically loved and learned a lot from the topics on positive parenting and I am hoping that I get to really apply it in real life.
After listening to some of the sessions, right away I noticed myself being more relaxed with my son and less caught up in what he should be doing. I'm enjoying him more, observing his curiosity and allowing him the opportunity to show me what he is capable of and interested in. It has led to greater cooperation and made the days smoother and more enjoyable. Well done!