A unique online Montessori course for everyone looking for answers on how to be the best guides for their children.
Montessori can feel like a daunting task
You may be feeling overwhelmed by the sea of information about Montessori online. You might feel unsure where to start or uncertain about the scope and sequence of Montessori materials. Or perhaps you are short on time and you would benefit from a course where you can study at your own pace. We have a perfect solution for you!
We are here to help you feel at ease!
Our comprehensive online course will walk you through Montessori step-by-step.
Our online course consists of 6 theme modules. You can buy the individual modules of your choice, or a Complete Montessori course for a discounted price.
Our unique Montessori Online Course will walk you through Montessori step-by-step.
6 modules divided into 199 videos that cover the complete Montessori curriculum
Unlimited access – study at your own pace and revisit videos as many times as you need
Experienced AMS certified teacher as your guide
FREE Philosophy module as a bonus to every purchase
Certificate of completion available
Our online course consists of 6 modules, based on the curriculum areas of the Montessori classroom. Each module includes a number of video-lessons of varying lengths.
All together, you will get access to 199 video-lessons!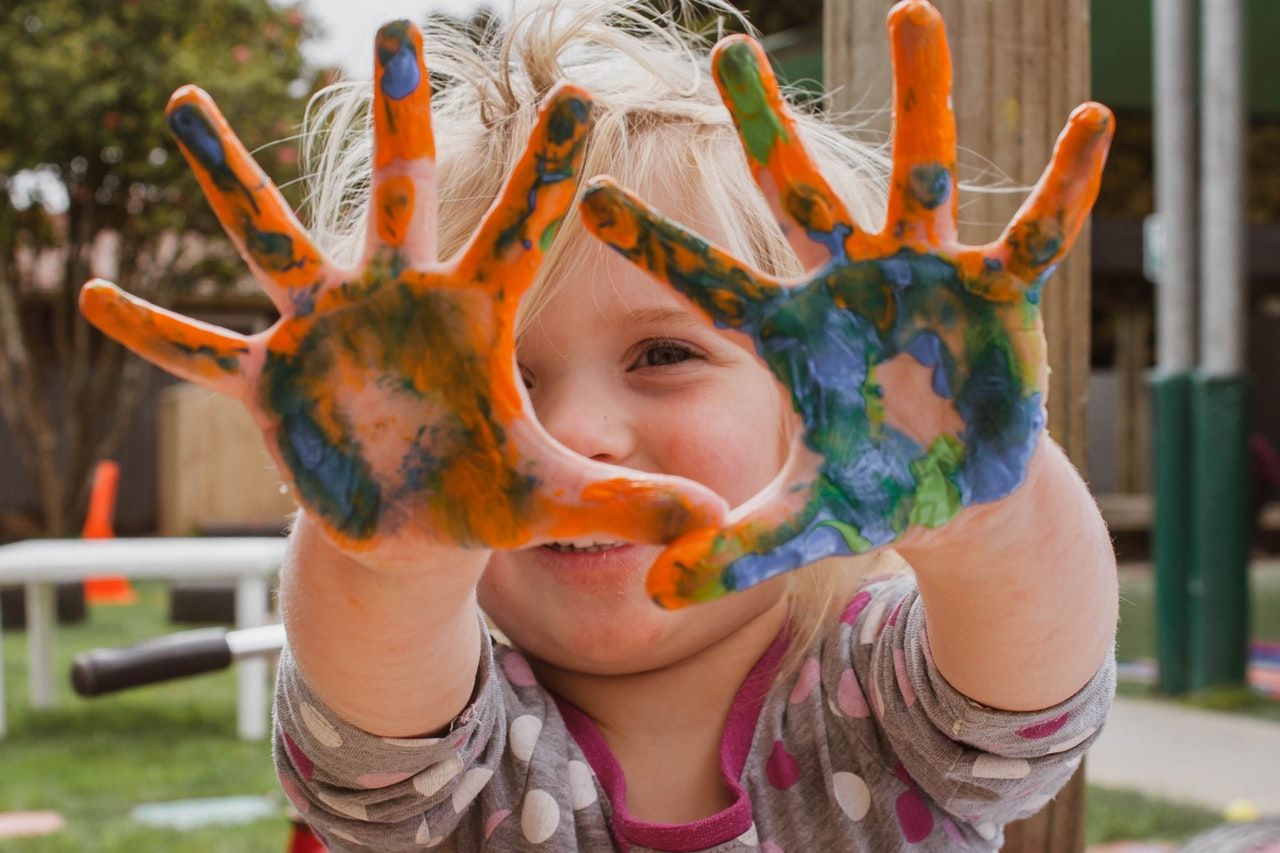 FREE MODULE Philosophy
Suitable age: 0 - 6
Number of lessons: 9
This is a FREE MODULE. You will receive it as a bonus to your purchase. 
The Montessori approach to education and children isn't only about didactic materials. It stands on very fundamental concepts which help us to understand what goes on in our children's minds and how to help them in their development.
This module covers the essentials of the Montessori approach, and it will help you understand the whole Montessori concept. It provides the foundation on which the other modules are built.
Practical life
Suitable age: 1,5 - 6
Number of lessons: 36
Practical life exercises are a very important foundation for the development of the child. The child observes everything that we do as adults and gains knowledge through real experience of how to accomplish life skills in a purposeful way. These skills, when learnt early in life, enhance children's belief in themselves, give them a sense of being and belonging and help them develop self-discipline needed for success throughout their lives.
In these videos we will guide you through activities which will help children to develop concentration and inner sense for order, fine and gross motor skills and independence in everyday life.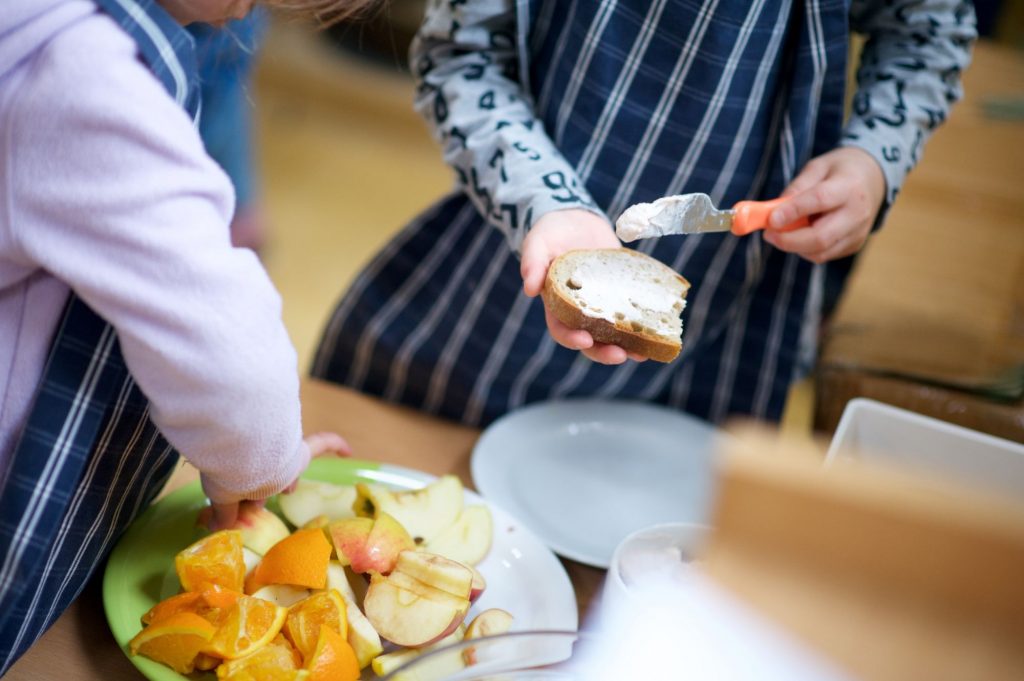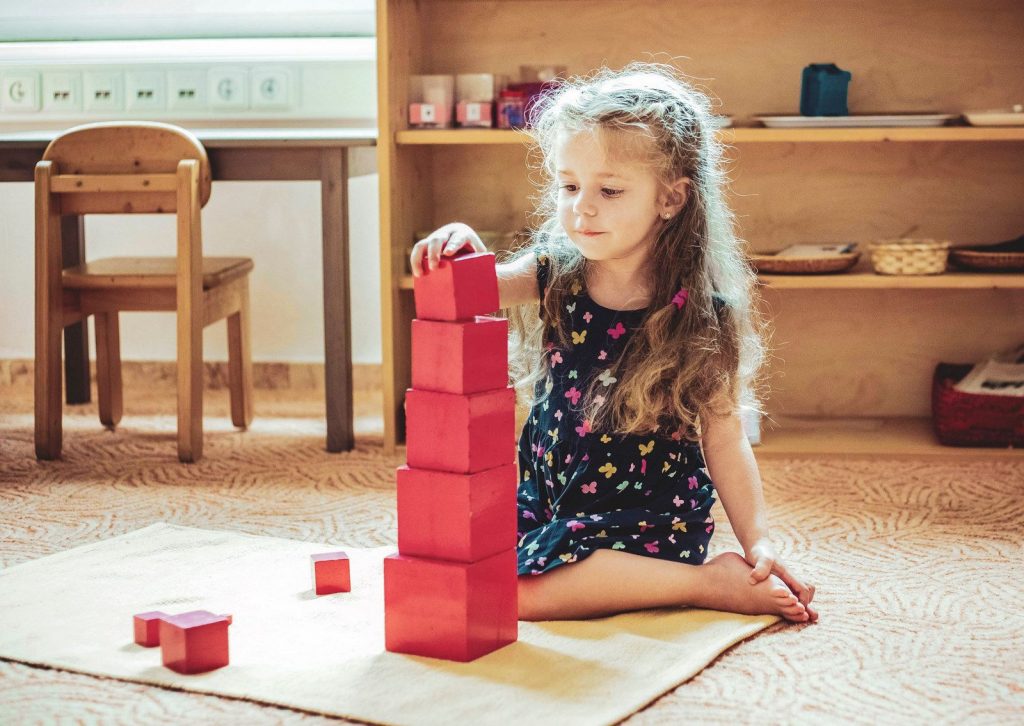 Sensorial
Suitable age: 2,5 - 6
Number of lessons: 33
The world is a place full of colors, sounds, strange surfaces, tastes and smells. The child is a "sensorial explorer". The aim of sensorial education is to perfect and refine the senses and to allow the child to get to know his environment in a deeper and more accurate way.
By the time children reach the age of around three, they are not only attracted to sensory stimuli but they are also ready to start sorting and organizing these sensory impressions. 
Language
Suitable age: 2,5 - 6
Number of lesons: 42
Humans needed language in order to communicate. The evolution of the human language began when communication was done through pictograms or drawings. Language is specific to different cultures and it is the foundation of all social life.
Language materials enhance vocabulary and help the child to explore both written and spoken language. Children learn phonetic sounds and how to compose words phonetically. They progress to compose their own written work, read the work of others, and learn to communicate their thoughts and feelings.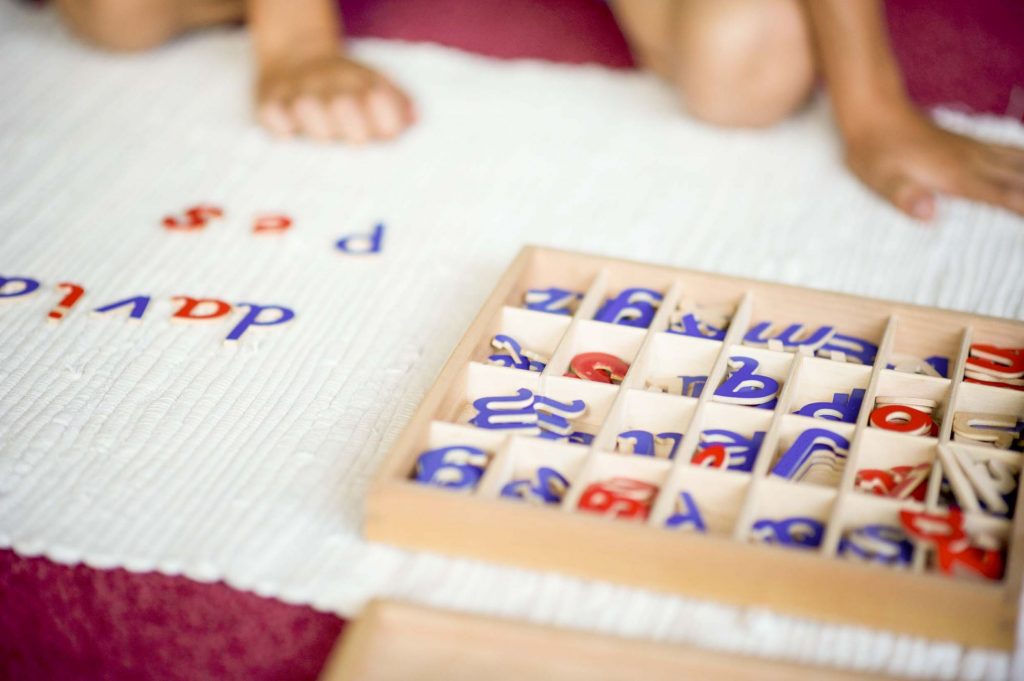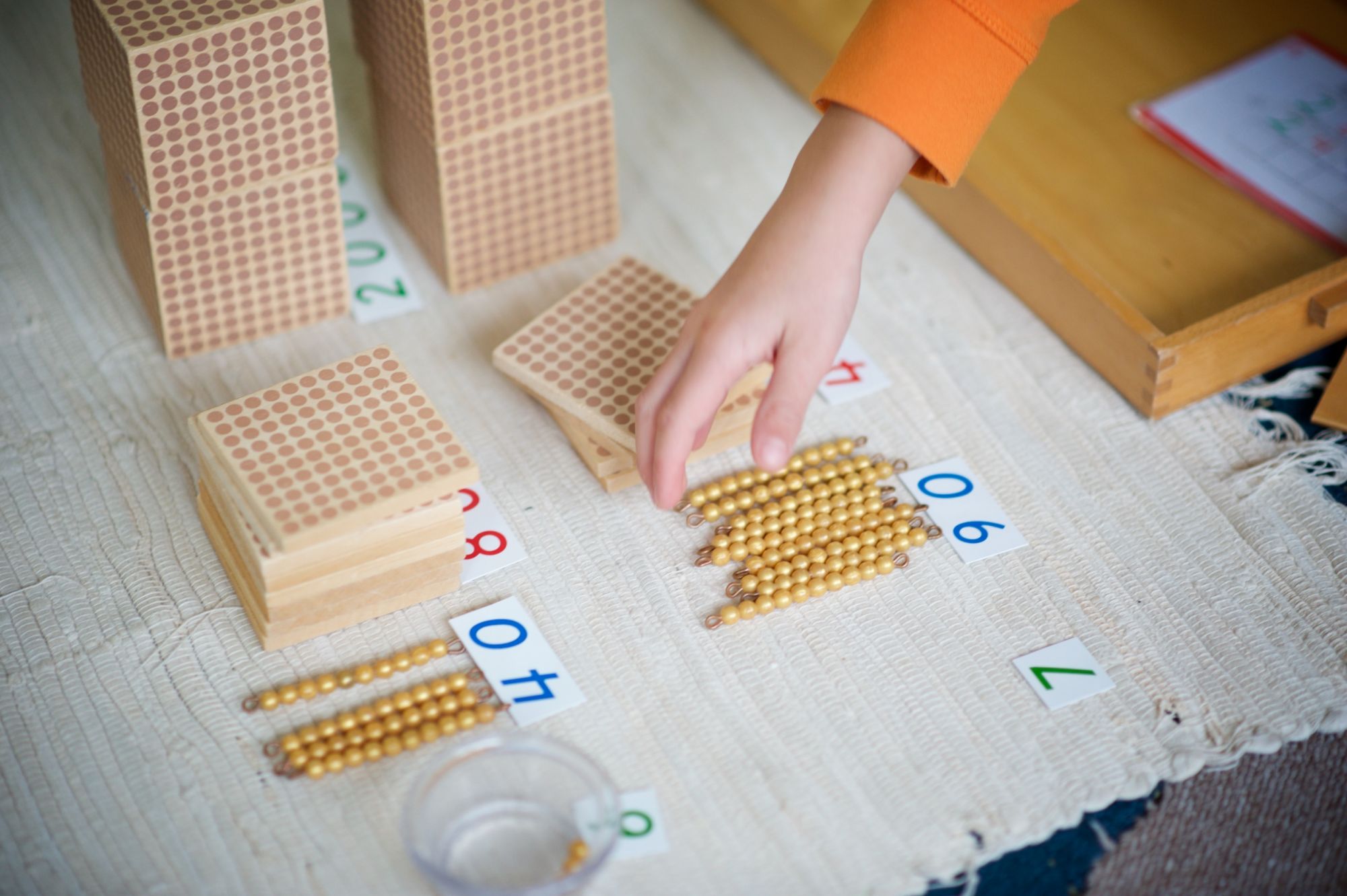 Math
Suitable age: 3 - 6
Number of lessons: 43
All children have a mathematical mind, through which they estimate, quantify, classify, sequence and see patterns to make order. Maria Montessori designed concrete materials for children to develop these mathematical skills at different levels primarilly through self-discovery.
Maria Montessori designed concrete mathematical materials to represent all levels of quantities and mathematical concepts after she observed that children are interested in counting.
Science
Suitable age: 2,5 - 6
Number of lesons: 36
Children are natural observers. Science is all around us. Young children interact with the natural world everywhere they go. Investigating what flowers smell like, how a leaf feels, or what happens when you pull the cat's tail is how they learn how things work and how they are to interact with it.
Maria Montessori recognized the young child's need to observe and absorb information about the world around them. She believed that experience with real objects should always proceed before learning the names or looking at pictures of things.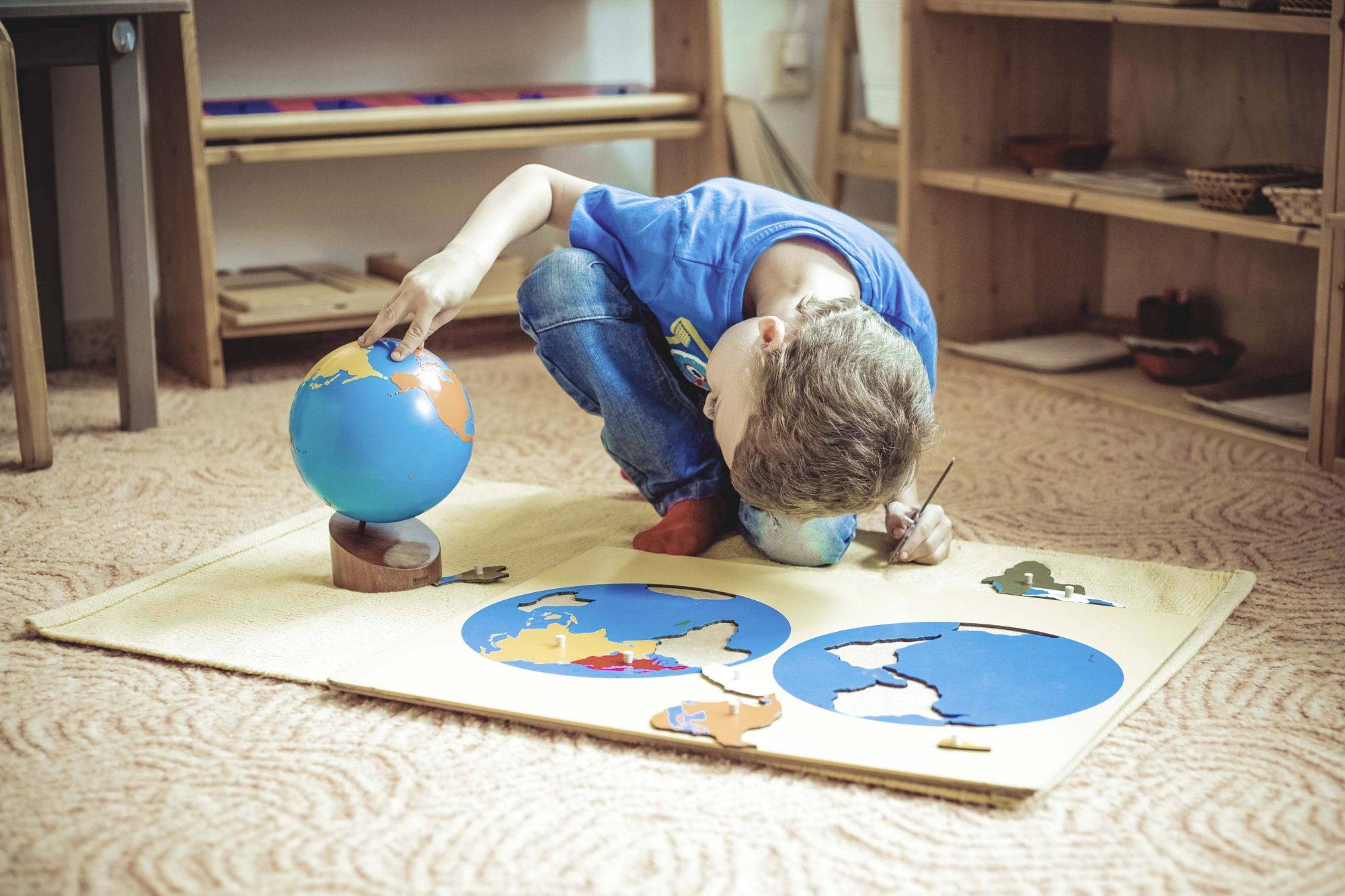 I'm absolutely enthusiastic! Everything is in one place! As a mother of two children I'm very grateful for the option to go back to each video as many times as I want. And watching it on my phone when I have a few minutes for myself - that's awesome! I really appreciate the section with the inspiration on how to make didactic materials ourselves at home, because I don't have as much money to buy the originals and I love to create. Thanks a lot, I am so thrilled!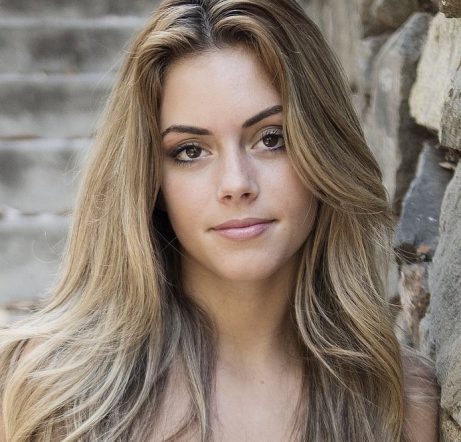 Unsure if the course is right for you? Leave your email with us and you will receive 2 free demo lessons and a detailed list of all the lessons. Sounds good?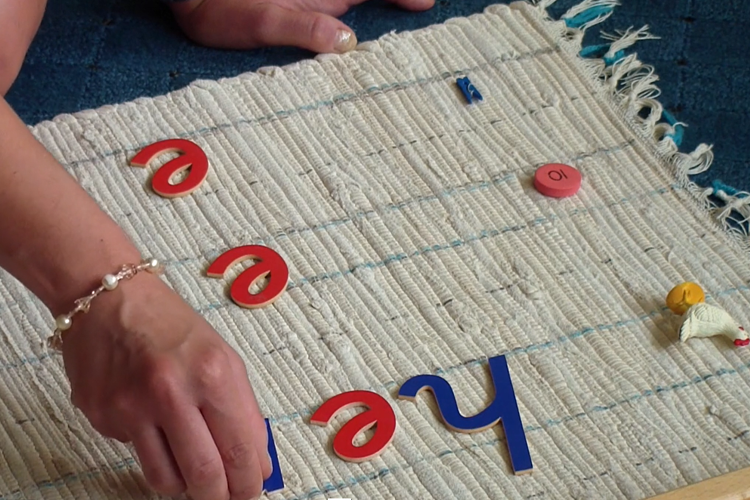 DEMO LESSON 1
Word composition with movable alphabet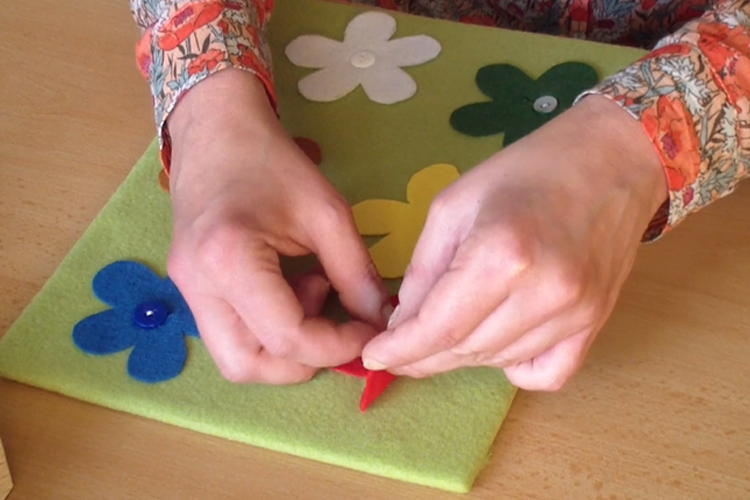 DEMO LESSON 2
Inspiration for DIY buttoning activities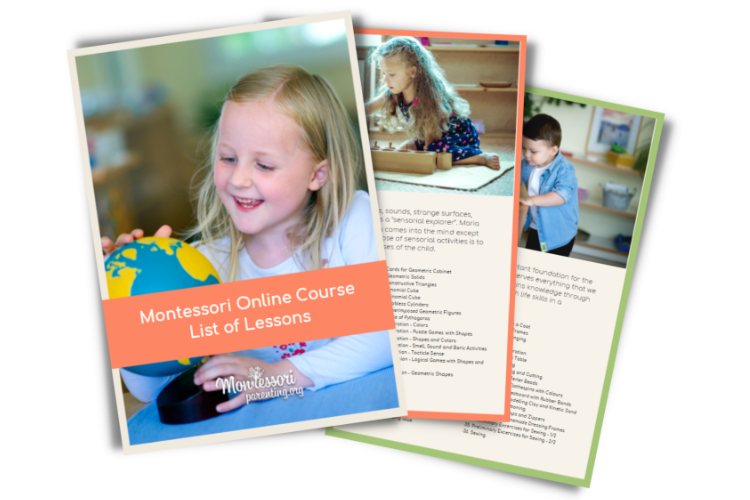 LIST OF LESSONS
Detailed list of all the lessons
Sign up for the sneak peek! 
199 video-lessons
Our course consists of nearly 200 short video-lessons, organized into 6 modules, that cover all areas of the Montessori curriculum.

You can buy the individual modules of your choice, or a Complete Montessori course for a discounted price.
Unlimited access
You can study wherever and whenever suits YOU. Feel free to set the pace and the order of lessons. Rewatch lessons at any time you need.
All information in one place
We provide a comprehensive course and step by step guidance. Just imagine the time saved searching for answers online or in books - we did the work for you!
Experience
Our trainers have international Montessori diplomas and experience working in Montessori schools. They also live the Montessori lifestyle with their children at home.
Bonuses
You'll get more than 20 sets of printable materials and at least 4 free e-books that will inspire your journey.
Inspirational tips
You will get ideas for making your own educational resources and preparing activities with materials you have at home. Perfect if you are on a budget!
Montessori community
You can join our Facebook group to share experiences with other participants in the course.
The training has become a great help to our school! I know that when we get a new member in our team, who needs a training and introduction to the Montessori materials, thanks to your work, they will obtain priceless information. This complex insight into the topic seemed to me just like a dream for every preschool. BIG THANKS FOR YOUR WORK!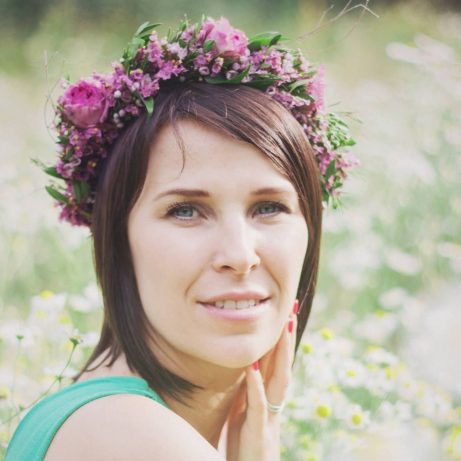 Our online video course is for you, if...
you care about the development of your child and want to help them reach their full potential

you want to better understand the behavior of your child 

you want to homeschool and have some guidelines

your child is in a traditional school and you'd like to improve the educational value of the time you spend with them outside of school

your child is in a Montessori classroom and you'd like to understand what and how they are learning


you need inspiration about educational materials that you can make at home
you want to add Montessori elements and ideas into your classroom

you want to learn about the Montessori approach, fundamental concepts,

curriculum and materials, and how to introduce them to children

you already know something about the Montessori approach, but you feel lost in the sea of information available online and you could use a structured, comprehensive course going from A to Z

you run a school or homeschooling group and don't have the time or financial resources for your teachers and assistants to attend teacher trainings
Recently I decided to fulfill my dream and open a children's homeschooling group. I always wanted to implement the Montessori principles in the environment and in the teaching methods. I found amazing co-workers however they had only very basic knowledge of the Montessori method. I couldn't afford to pay all of them AMI trainings and therefore I searched online. I found Lucie's online course through her store. All three of my teachers are now doing a complete comprehensive online training and so far I am very happy with the results it has brought to our classroom. I also appreciate that the teachers enjoy the training and can do it during their evening hours at home.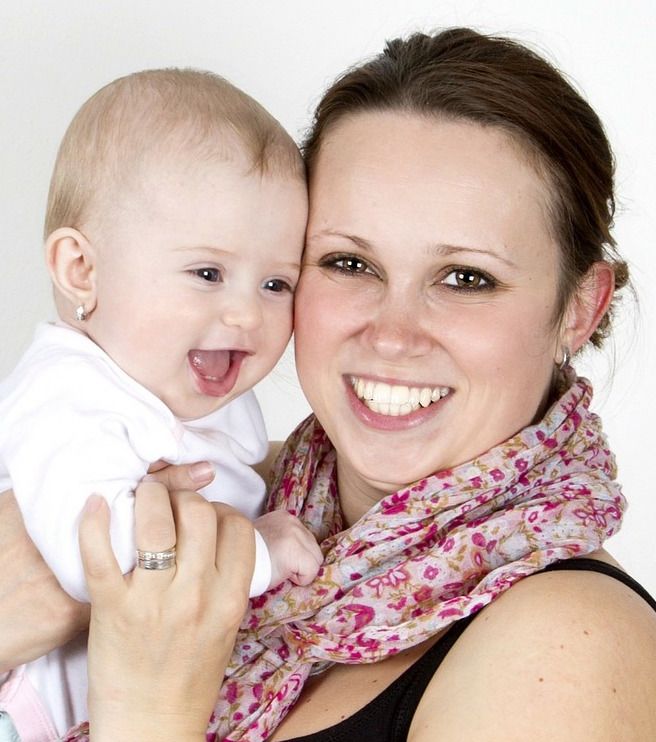 After the course you will...
Have valuable knowledge you can easily apply in your school or at home

Better understand your children to help them reach their own unique potential

Be able to create the right environment to support your children 's natural love of learning

Be at ease with the scope and sequence of Montessori materials

Have unrestricted access to the course content should you need to revisit any lessons

Be on your way to become a confident Montessori guide to your children
SINGLE MODULE
89 EUR
+ VAT in the EU countries
Buy a single module according to your needs. Other modules can be bought any time later.
COMPLETE COURSE
534 EUR
389 EUR
+ VAT in the EU countries
BEST VALUE
Package of all six modules for the price of less than four modules!
VIP PACKAGE
634 EUR
489 EUR
+ VAT in the EU countries
Package of all six modules for the price of five, plus two hours of personal consultation.
At least 50% of our profit assists various educational projects all around the world. Would you like to learn more? 
Since 2002 I regularly travel to Kenya and Guinea, with an NGO called Centrum Dialog. The goal of the organization is to give a chance to less fortunate children to get a quality education and leave the circle of poverty. Since our first trips to Africa, we managed to open several schools (11 up to now). We always valued the quality of education which differentiate these schools from other schools in the areas where we work. In 2015, we organized a very nice Montessori training in Kenya, Nairobi for 40 teachers from slum schools in Kibera.

After this "on-site" training, it was clear to me that if we want teachers to have an access to good quality information, not being limited by their location and finances, the online education is the best form.

And this is exactly why we will grant a free access to this course to schools and projects that try to empower communities and tackle extreme poverty in all different locations of our planet.

At least half of the profit from our online course will be donated to develop such oases of peace for children who are not so lucky in life and need a little bit of help with a start of their journey for a better future.
Meet Alice Giles, your trainer!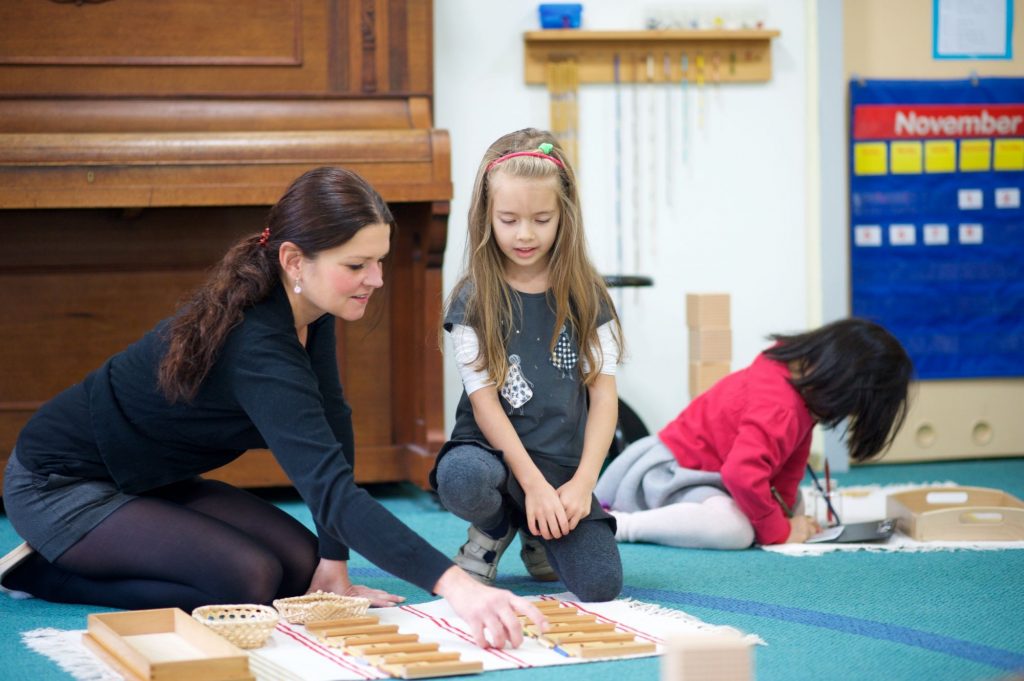 Alice Giles is a Montessori teacher and a mother of two girls, seventeen-year-old Adéla and nine-year-old Lily.
Alice originally studied English at Masaryk University in Brno, Czech republic. Thanks to her daughters, she crossed the path with Montessori education and the work with children.
In 2010 she started to work as a lead teacher in a primary classroom in the International Montessori School of Prague. She acquired her AMS Montessori diploma for the age group 3-6 in New Jersey, USA at the Princeton Montessori Centre. She also passed several other trainings for pre-school education, child psychology and communication.
Frequently asked questions
How is the course organized?
After your order is completed and paid, you will receive your login details by email. When you log in, you will gain access to all the video-lessons organized into the 6 thematic modules. You can watch any video, whenever you like, in whatever order, at whatever device and as many times you like. All the lessons are in form of videos. We want to visually show you how to work with the materials. If you purchased the VIP package, after you have seen all the videos, you can then contact us to arrange the personal consultation.
What if I realize that the course is not for me?
If you are unsatisfied or unhappy with your purchase, contact us within 30 days and we will issue a full refund. We really want you to feel the value of our program and not to be disappointed in any way.
What if I don't have money to buy the Montessori materials?
The course will show you how to work with each of the materials that you can find in the 3-6 Montessori classroom. In addition to that, we give you ideas about how to make some of the materials at home, or how to create similar materials that are inspired by the Montessori method. This means that many of the items you can make by yourself.
What ages of children does this course cover?
Most of the videos cover the 3-6 age group. Even before your children reach this age, it's valuable to watch the Philosophy module. In the future, we may develop another course aimed at younger children.
How long does the course take?
The length of time the course will take is really up to you. There are 6 modules, each with around 30-40 videos. You will gain instant access to all the videos at the moment you enroll in the course. Some people prefer to skim through all the videos quickly to get an overview of the program, and then return later to watch each with more focus. Others prefer to go through everything slowly and carefully, paying attention to details, making notes and absorbing the information. We recommend the second option. Take your time, fell free to rewatch videos. And remember to enjoy :-)
Will I get a certificate after taking your course?
We can offer you a certificate of completion. This certificate shows that you completed this online training but it does not make you a Montessori certified teacher. Our online program is for homeschoolers, day care providers, and preschool teachers looking to bring Montessori into their existing learning environments. You will not be able to say that you are a Montessori certified teacher as this is not an accredited program.
Is there a discount for multiple teachers from the same school?
We will consider a discount for groups of 3 or more teachers from the same school. Please contact us directly at info@montessoriparenting.org with any requests.
For how long do I have access to the course?
After enrolling, you have unlimited access to this course for as long as you like - across all devices you own. In addition, you have lifetime access to course updates.
Not sure if our course is right for you?
Purchase it risk-free.
We'll give you money back if you're not satisfied.
Your satisfaction is our priority. If you are not happy with the course that you have purchased, you may contact us within 30 days from the order date for a full refund of the purchase price.
So, what are the next steps?
Buy the course
After you complete the order and pay, you will receive an instant email with the login details to the lessons.
Watch the video-lessons
You can watch the videos wherever and whenever you want. On your laptop, smartphone or tablet. During the day at work, at home or at night when the kids are asleep.
Download your bonuses
On the course website, you will also see a page with bonuses including e-books, and sets of printables.
Connect with our community
Join our Facebook group and get in touch with others.